By Mike Cohen

In the "x's and o's" world of coach-speak, and especially in big-time college basketball, sentimentality is not something commonly heard in post-game press conferences. But following Louisville's 74-55 victory over Villanova in the quarterfinals of the 2013 Big East Tournament at Madison Square Garden, Coach Rick Pitino was in no mood to talk about shooting percentages and pick-and-rolls after learning that Jack Curran, his star guard Russ Smith's high school coach, had passed away a day earlier.
Pitino himself had ties to the legendary New York mentor, who died at the age of 82, and who had worked for 55 years at Archbishop Molloy High School in Queens, breaking virtually every New York scholastic record in both basketball and baseball, including winning more than 2,600 games.
"I went to his camp, Friendship Farm, in New York," said Pitino, 60, who grew up on Long Island, and is the only collegiate coach to ever take three different schools to the NCAA Final Four.
"He had all the traits of a great leader. Very humble, great teacher, very wise man. It was always about the players with him. He had a lot of what I witnessed about [UCLA basketball's] Coach Wooden. They were very similar personalities. They were great teachers. Although he was a great basketball and baseball coach, he probably was even a better gym teacher. Never lost his passion and love," said Pitino.
This is the same intense, relentless Pitino who, just two nights later during the first half of the Big East Tournament Final against Syracuse with his team trailing by as many as 15 points, was getting in players faces and displaying every ounce of emotion he had to rally his team. 
"I had to jump our guys pretty hard at halftime," said Pitino.
It was more like he rocket-shipped them. His team went on to a remarkable 29-4 run in the second half, sparked by a frenzied all-out defensive effort that brought the Louisville faithful to a well-frenzied state themselves. The Cardinals rolled to a 78-61 victory over the Orange to win their second consecutive Big East post-season championship and earn a number-one overall seed in the NCAA Tournament.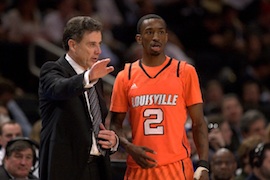 Louisville's internal motor is fueled by a pair of guards that are simply faster than everyone else on the court. In senior Peyton Siva and junior Russ Smith, Pitino's scheme of controlled chaos and unrelenting pressure on the ball that leads to the type of fast-break baskets that was the undoing of Syracuse in the second half, is a style that is unique to Louisville. It's predicated on Siva and Smith playing a disciplined game, while at the same time making split-second decisions that are based on old-fashioned all-out hustle. Its precise execution is based on a trust between Pitino and his players.
It's no wonder then that Pitino freely says that Siva, the point guard, is (along with Billy Donavon) the best person and player he has ever coached. Siva is able to orchestrate the genius of Pitino's coaching philosophy better than any of his previous players. Together Siva and Pitino have collaborated on over 120 wins during the past four seasons and made it to the Final Four in last year's NCAA Tournament. Still, with Pitino, there is always room for improvement.
"He's always tough on Peyton," said Peyton Siva Sr., talking about his son, who was named the Most Outstanding Player of this year's Big East tournament for the second time. Patrick Ewing of Georgetown is the only other two-time winner of the award. "It's part of the grooming process, it was all presented to us before we got here. If you don't want to work hard then Louisville is the not the place for you. Coach Pitino has done an outstanding job with my son, he's a coach as well as a father figure. I guarantee when he's done with them, he will prepare them for life."
The game will always mean a lot to Pitino, but those close to him talk about him developing a wider perspective on life and in coaching as time has gone by. In the last 12 years he lost his brother-in-law, who was also his best friend, in the attacks on 9-11, and he also went through a highly publicized extortion scandal that was fueled by an extra-marital affair. The character of the players that he brings in to Louisville is a top priority to him and, once there, his goal is developing that aspect in their lives even more.
"As he's gotten older and focused on the complete picture in terms of the guys, he's very cognizant of what they have to do in life," said Eric Crawford, who was a long time reporter for the Louisville Courier-Journal and is working on a book with Pitino on overcoming adversity. "He wants them to be positive and the type of person that turns people on, and not turn them off. He wants them to practice face-to-face communication."
It's the old-school values that Pitino identified in Jack Curran and wants his players to emulate. With Siva and Smith he has two players who can execute the Pitino brand of basketball on the court and who want to be socially responsible off the court. Smith has dedicated the NCAA Tournament to the memory of his beloved former mentor, and while Siva may have not played for Curran, he follows the principals established by the late coaching icon that are now being passed down to the next generation of college basketball players.
"Just everything [Coach Pitino] taught me in life, I want to instill that in the freshman that will come next year," said Siva minutes after celebrating his team's victory over Syracuse. "I plan on staying around and talking to them about how Coach P. is and build him up." #
Mike Cohen is sports editor at Education Update and director of Throwback Sports, a small-group and individualized sports program for children. Contact him at throwbacksports@verizon.net.
Top photo:
(L-R) Rick Pitino with Peyton Siva, Notre Dame.
Bottom photo:
(L-R) Pitino with Russ Smith, Marquette.