PASTOR SAYS HE'S FOUND HIS MISSION IN SERVICE TO THE NEEDY 

Every Saturday Pastor John Udo-Okon wakes up at 3 a.m. to park his two vans along 162nd Street, around the corner from his church, Word of Life Christian Fellowship International.

The vans reserve a patch of sidewalk for his food giveaway program, which feeds as many as 600 people every Saturday, according to the church.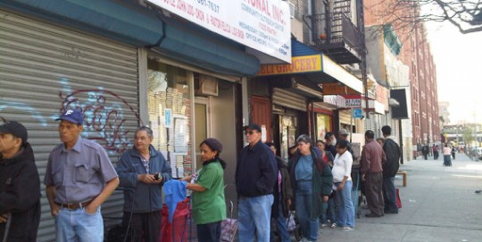 By 5:30, a line has begun to form at the tables piled with food. On a recent Saturday, Mary Martin was the first person in line. In 13 years of going to food pantries, she says, this is one of the best she has found. "Everything is fresh, people wear gloves, the quality of food is good," she noted.

By 6:30, volunteers begin to arrive to help with that morning's food deliveries. Many are former recipients who have returned in gratitude to help. As the pastor and his wife work with the volunteers, he greets the regulars and welcomes newcomers. The line itself is a test of need, he says. "Anyone can line up, but if you stand in line for that long, three hours, you need food."

At 9:30, as it comes close to the time for the line to start moving, high school and college kids start pouring in. They have come to volunteer as well. Pastor John's wife Felicia is quick to organize them. "Why are you here? Come on no standing around. Let's move it," she commands.

By then both sides of the street are packed with people waiting. One side is reserved for the disabled and elderly, the other for everyone else. Grandmas, kids, immigrants and Vietnam vets are among those waiting. Udo-Okon says Iraq war vets have also joined the line from time to time.

At 10 a.m. the line starts to move. Volunteers offer clothing, books, cream cheese, chicken, apple juice, and whole crates of grapes.

"Food stamps aren't enough," explained Lydia Llano, as she moved toward the volunteers distributing food. "You go to the supermarket and come out with nothing. Here you get everything."

A sobbing woman approaches the pastor. He stops what he's doing and pulls her aside. They bow heads. A few minutes later, the woman hugs Udo-Okon and walks away, calm and wiping away old tears.

Later Pastor John explains. The woman's husband had just passed away. Though she was not a member of his church, she lived nearby, and when she needed comfort she turned to him.

"The Reverend is a very nice man and always there for you," says Kate Bryant, a friend who has known the Udo-Okons for years. "Whatever you need, he helps-spiritual, emotional, material."

Udo-Okon, 46, was born and raised in Nigeria. Befriended by Christian students in college, he found a new path in life. But it wasn't until 2003, after he had settled in the U.S., married and become the pastor of a small congregation that met in his apartment in the Northeast Bronx, that he found his true calling.

As he and his wife were driving home from services one Sunday, they noticed a well-dressed man digging through a garbage can. They asked him what he was doing. "He told me he was hungry," recalled Pastor John.

He handed him five dollars, but from that day he knew his work as a pastor had to focus on helping the poor. Later that same year he moved to the South Bronx and the church's current location at 914 Prospect Ave.

About half of the food the church distributes is donated by City Harvest, which gathers uneaten food from restaurants and caterers and delivers it to food pantries. Another 30 percent comes from Food Bank for New York City, based at the Hunts Point Cooperative Market, on whose advisory board the minister serves.

Udo-Okon and his wife also provide emergency food services to anyone knocking on their door during their regular hours of 8 a.m. through 7 p.m. No one is turned away, however, regardless of the time.

The pastor recalls a night when he and his wife were locking up the church. A man ran toward them. He told them that he had no food to feed his family. The nearby bodega where he asked for credit sent him to the church. The couple unlocked the gates. Tears flowed down the grateful man's face, the pastor recalled.

Like many charities, the biggest problem the food pantry faces is funding. The Udo-Okons have invested much of their own money to fund the program. Most of the other support comes from the 50 members of his church.

Newly elected Borough President Ruben Diaz Jr. has promised a $50,000 grant to purchase a truck, the minister says, and Assemblyman Michael Benjamin has included $6,500 for the food pantry in the grants he makes from a fund set aside for each legislator to disburse at his or her discretion. The church is waiting for that money to come through.

Even simpler requests take time to move through the system. The pastor has asked the city to approve a no-parking zone on 162nd Street, so he will no longer have to reserve the space for food distribution by moving his vans. At its April meeting, Community Board 2 agreed to send letter of recommendation to the city Department of Transportation.

Still, the pastor says he is grateful for any help. "If I just feed that one family in need so they don't have to go to bed hungry, I am happy."

At the end of the day, a few volunteers stay behind to help clean up. One of them, Manny Davilla, who grew up on Prospect Avenue, begins flattening and stacking boxes.

"We needed this place," he says, "with a guy like him here."

The above article won the 2010 Murray Kempton Award for Journalism in the Best Feature Story category. The judges commented: "Small Longwood Church Feeds the Hungry" by Fausto Giovanny Pinto, a senior at Hunter College last year, captures the essence of enterprise reporting with a heartfelt look at the Word of Life Christian Fellowship International Church in the South Bronx. With evident eyewitness reporting, iIt ably portrays the struggle of a pastor and his wife to care for needy area residents, not only with food, but also with understanding and compassion." For more information, click here.