A great historic site for a memorable music festival
Ravenna, a city in Northern Italy situated just off the Adriatic Coast has a unique and unmatched collection of Byzantine Mosaics.  Because of this treasure trove, Ravenna boasts eight UNESCO World Heritage sites and is a strong candidate to be selected as the European city of Culture in 2019.
This jewel of a city also hosts an annual musical festival.  This year, the Czech Philharmonic Orchestra was one of the visiting ensembles.  They were conducted by the incomparable Valery Gergiev.  The piano soloist was Yeol Eum Son, an extraordinary South Korean virtuoso.  She gave a scintillating account of Rachmaninov's second piano concerto, her playing being characterised by rich and varying coloring.  The power emanating from the petite pianist in the fortissimo passages of this romantic piano concerto was formidable.  
Czech Philharmonic Orchestra with Valery Gergiev (Conductor) and Yeol Eum Son (pianist) © Maurizio Montanari
Two other Russian works rounded out the program.  A suite from Tchaikovsky's Swan Lake and Mussorgsky's Pictures at an Exhibition.  The orchestral concert was held in the Palazzo Mauro de André, a large covered sports stadium.  I was sceptical about the acoustics.  Whilst certainly not perfect they were adequate.  Even the brass and percussion sections in The Great Gate of Kiev, from Pictures at an Exhibition sounded impressive.    Gergiev coaxed from the orchestra all the intricate inner details of the work.  The lovely lush warm string playing characteristic of great central European orchestras was much in evidence.
Many of the concerts at the annual Ravenna festival feature The Luigi Cherubini Youth Orchestra, named after the Italian composer Luigi Cherubini.  The orchestra was founded in 2004 by the conductor Riccardo Muti who is its musical director.  The orchestral members whose ages range from 18 to 27 years come from all over the European Union.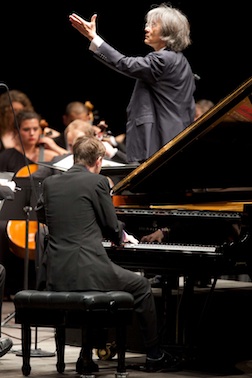 The Luigi Cherubini Youth Orchestra with Kent Nagano (conductor) and Till Fellner (pianist). © Zani Casadio
There is always something special about hearing a group of enthusiastic young musicians.  These proficient players gave a mature exciting account of Brahms's fourth symphony.  This inspiring performance was conducted by Kent Nagano, who successfully achieved the appropriate balance and clarity with his orchestral forces.  The concert began with Brahms's first piano concerto.  The soloist was Austrian pianist Till Fellner.  This deeply committed musician gave a slow measured but authoritative account of this technically daunting work. 
The festival often includes a full opera production held in Ravenna's beautiful opera house, Teatro Alighieri.  This year, OperaUpClose, a British Group which produces modern budget adaptations made an appearance.  The venue was a restaurant where the audience were first served a delightful meal.  The performance thus took on a cabaret like atmosphere.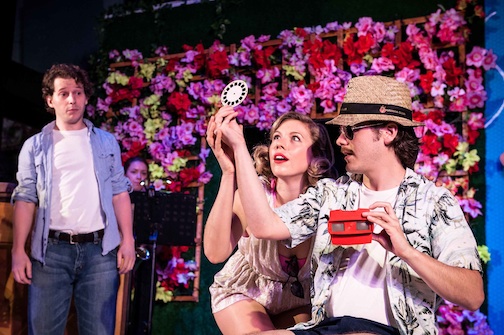 Act 1 Donizetti's L'Elisir D'amore with Prudence Sanders (Adina), Alex Vearey Roberts (Nemorino) and Richard Immergluck (Belcore) © Anna Agliardi
The opera performed was Donizetti's ever popular L'Elisir D'amore in an updated and abridged English version by Thomas Eccleshare and it was produced by Valentina Ceschi.  Kate Lane's small-scale innovative production was set in 1950 Hollywood around a swimming pool party hosted by the blonde starlet, Adina, sung by Prudence Sanders who possesses a lovely light silvery voice.  Tenor Alex Vearey Roberts sang the role of the love struck pool attendant, Nemorino with ardour and flair.  Richard Immergluck was Belcore, the dashing officer who seeks Adina's attention.  Dickon Gough was the quack Dulcamara who sells to the gullible and simple Nemorino a love potion or elixir of love which in reality is a cheap bottle of Bordeaux.  These singers also maintained the uniform high vocal standard.  Musical accompaniment was provided by piano, viola and saxophone.  This endeavor, more cabaret than serious opera, was certainly very entertaining.  The audience left happy and smiling.  The evening was a great success for the Ravenna Festival.