by Mariah Klair Castillo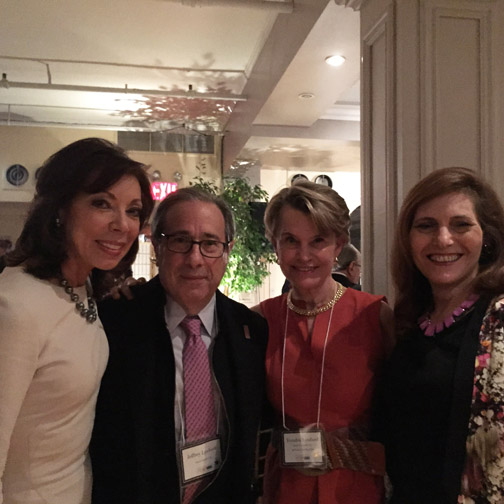 (L-R) Margaret Cuomo, M.D., Jeff Lynford, Tondra Lynford, and Jennifer Raab
Resources for Children with Special Needs, the only independent non-profit organization in New York City that works with the families of children with special needs, recently held their 30th Anniversary Gala at the Manhattan Penthouse. The organization, founded by Tondra Lynford, Helene Craner, and Karen Schlesinger, helps children with special needs and their families by giving them support and various resources to help these children gain a greater quality of life. These three co-founders created the organization after having children with special needs. Moreover, Lynford, along with her husband Jeff Lynford, are active supporters in improving the quality of life for children all over the world.
Mickey Stalonas, Executive Director of the Warner Fund, was given the Impact Award, for investing in non-profit organizations. The Warner Fund recently gave Resources $960,000, making the organization the largest receiver of grants from the Warner Fund. Stalonas praised the organization for their efforts, saying, "Parents are the heroes, and Resources gives them the ammunition to help their children."
Ellen Miller-Wachtel, Chair of the Board of Directors of Resources and the Vice President and Deputy General Counsel of Major League Baseball Properties, Inc., was given the Leadership Award.
Margaret Cuomo, M.D., was awarded with the Visionary Award for her work advocating cancer prevention. Dr. Cuomo, a certified radiologist, has worked with cancer patients at North Shore University Hospital, and has seen firsthand the devastating impact of being diagnosed with cancer. She therefore used her experience to advocate living a healthier lifestyle and to write A World Without Cancer.
Tondra Lynford presented Dr. Cuomo with the award, said, "Since its inception, Resources for Children with Special Needs has provided advocacy and support for all children and their families dealing with all things that prevent or disrupt the process of learning. Any child who has undergone cancer treatment falls in this category. For a child, cancer is not only a loss of innocence; it is a learning handicap."
In her speech, Cuomo talked about cancer prevention. Over 50 percent of all cancer is preventable through a healthy diet, exercise, moderation of alcohol, abstaining from smoking, protecting the skin from the sun, and managing stress. There is a critical time of development for children where one can reduce their risk for cancer, and she notes that what parents can teach their children should be reinforced at school and through legislation. Cuomo advocated for new legislation to eliminate harmful chemicals from household products, and invited the audience to join her in this fight.  She states, "A collaborative effort is needed to prevent cancer, and that goal is within our reach."
She also quoted Eleanor Roosevelt: "Surely, in the light of history, it is more intelligent to hope rather than to fear, to try rather than not to try. For one thing we know beyond all doubt: Nothing has ever been achieved by the person who says, 'It can't be done.' You must do the things you think you cannot do."
Cuomo and Lynford are prime examples of Roosevelt's quote.#